Cache everything in Cloudflare also caches logged in users which makes admin bar in WordPress to appear to anonymous users. It is not a good thing and cause negative effect to user experience. We can disable admin bar in WordPress from dashboard settings but there is comment section which also shows logged in as message to not logged in users.
So, is it a good idea to use cache everything in Cloudflare? The answer is yes because I am going to show you how to avoid caching logged in users and how to only purge single page which is modified.
There is a plugin, Cloudflare Page Cache which does the same but it purges all the cache including HTML and static contents like image & CSS. Therefore this article is not only about avoiding logged in user in Cloudflare edge cache but also purging those pages only which are changed.
We are going to use Cloudflare WordPress Plugin along with a Cloudflare Workers script. Cloudflare WordPress Plugin handles cache purging while Cloudflare Workers script enables Edge Cache HTML ensuring no logged in users are being cached and bypass HTML cache for users with cookies. Using this method when a comment is made then only that single page is purged from Cloudflare edge cache and when appearance is changed, everything is purged.
To do so you need to install Cloudflare WordPress Plugin and enable automatic cache management.

For this you need to setup plugin with Global API key first. Which can be found in https://dash.cloudflare.com/profile.

Now you need to run a Cloudflare Workers script that enables HTML edge caching.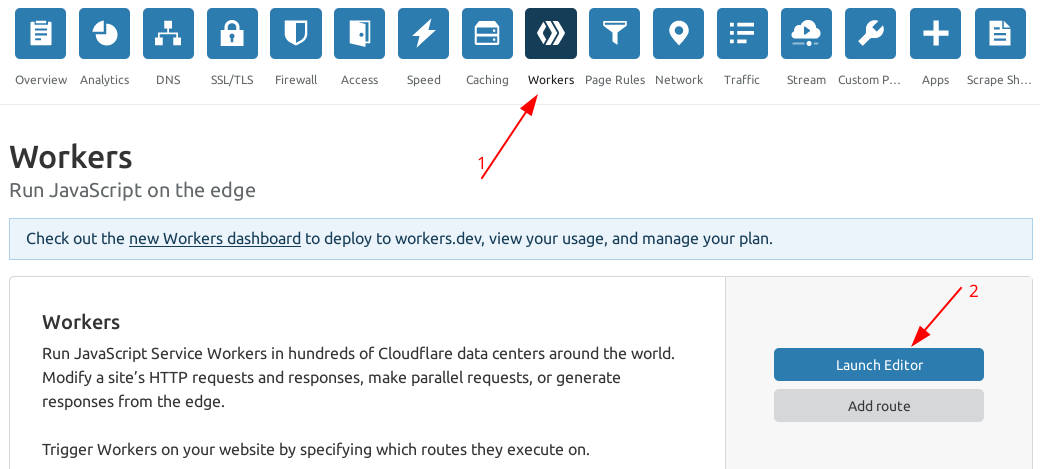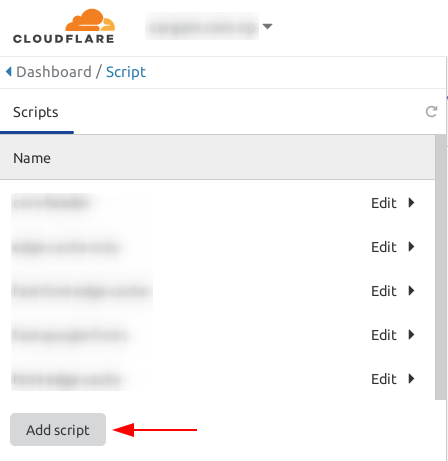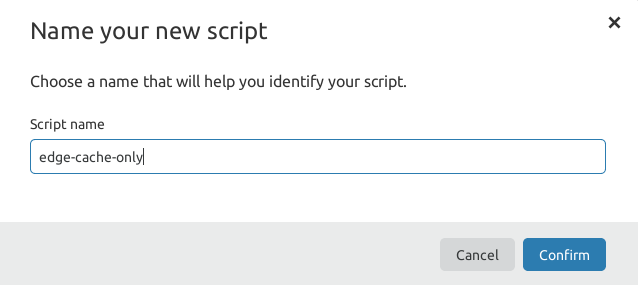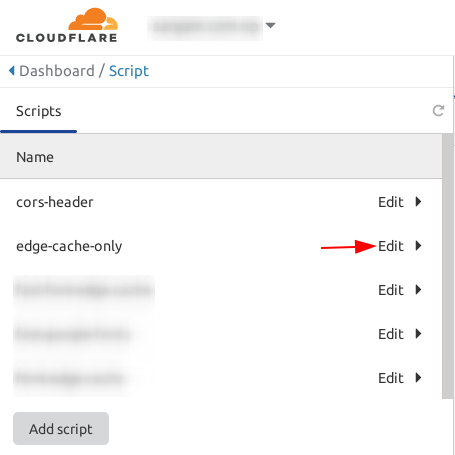 Clear all previous code and paste this Workers Script then click save. Gist link – Cloudflare edge-cache-only
// Stop CF edge from caching your site when specific wordpress cookies are present




// script found in https://www.mmaton.com/2018/07/02/cloudflare-cache-anonymous-requests/


addEventListener(

'fetch'

, event => {
  event.respondWith(noCacheOnCookie(event.request))
})


async

 

function

 

noCacheOnCookie

(

request

) {
  

// Determine which group this request is in.


  

const

 cookie = request.headers.get(

'Cookie'

)
  

// Edge Cache for 1 month


  

const

 cacheSeconds = 

2592000


  

if

 (cookie
    && (
      cookie.includes(

`wordpress_logged`

)
      || cookie.includes(

`comment_`

)
      || cookie.includes(

`wordpress_sec`

)
      || cookie.includes(

`woocommerce_`

)
    )) {
    

const

 bustedRequest = 

new

 Request(request, { 

cf

: { 

cacheTtl

: 

-1

 } })
    

const

 response = 

await

 fetch(bustedRequest)
    

const

 newHeaders = 

new

 Headers(response.headers)
    newHeaders.append(

'wp-cache-busted'

, 

`true`

)
    

return

 

new

 Response(response.body, {
      

status

: response.status,
      

statusText

: response.statusText,
      

headers

: newHeaders
    })
  } 

else

 {
    

return

 fetch(

new

 Request(request, { 

cf

: { 

cacheTtl

: cacheSeconds } }))
  }
}


Code language:

 

JavaScript

 

(

javascript

)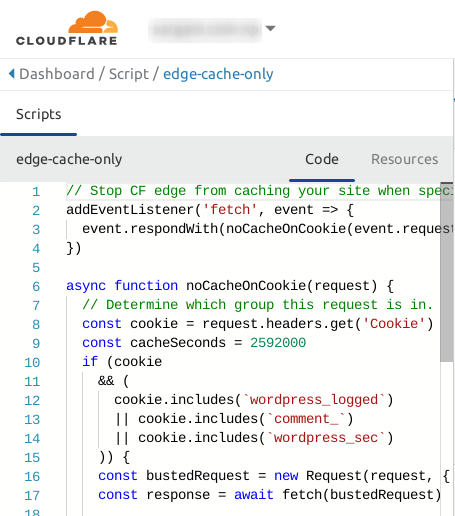 You can change const cacheSeconds = 2592000 to adjust the cache time. It is in second and is equivalent to Edge Cache TTL available in Cloudflare page rules. To deploy workers you have to add a route.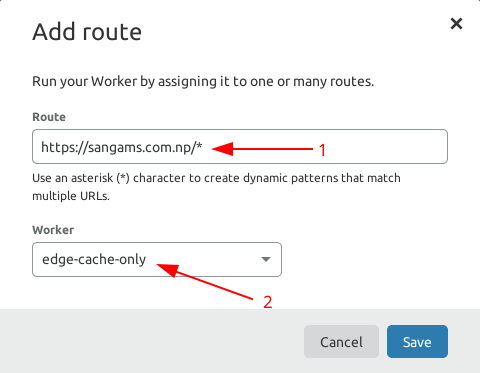 Now your website also became cachy like mine. After doing all the setup, disable your Cache Everything page rule if you have enabled it before. Also you don't need Edge Cache TTL page rule since it will not work without Cache Everything. The Cloudflare Workers script will take care of both of them.
Cloudflare Workers can do even more. Some examples are changing header on the go and Fast Google Fonts. See How to solve font loading issues due to CORS.
Your super cachy website may also send cache-control header like cache-control: max-age=3600, which tells browser to store cache for that time period.

Since we are also caching HTML pages, it will be also stored in browser cache. Due to this page will not load from server when next time user visits that page again instead it will load from users browser cache unless user refreshes the page.
To avoid this you have to set max-age to low as much as you can. It may depend on how active your site is. I have set it to an hour (3600 seconds). So you don't get this page updated unless you hit that reload button for an hour. You can set cache-control header using mod_expires rule in Apache web server. This can be done by using ExpiresByType text/html "access 1 hour" inside <IfModule mod_expires.c> </IfModule>. This is what my .htaccess file have in root folder of the site.
<IfModule mod_expires.c>
ExpiresActive On
ExpiresByType text/html 

"access 1 hour"


ExpiresByType image/jpg 

"access 1 year"


ExpiresByType image/jpeg 

"access 1 year"


ExpiresByType image/gif 

"access 1 year"


ExpiresByType image/png 

"access 1 year"


ExpiresByType text/css 

"access 1 month"


ExpiresByType application/pdf 

"access 1 month"


ExpiresByType application/javascript 

"access 1 month"


ExpiresByType application/x-javascript 

"access 1 month"


ExpiresByType application/x-shockwave-flash 

"access 1 month"


ExpiresByType image/x-icon 

"access 1 year"


ExpiresByType image/svg+xml 

"access 1 year"


ExpiresDefault 

"access 1 hour"


<

/IfModule>

Code language:

 

JavaScript

 

(

javascript

)
You can adjust it like ExpiresByType text/html "access 60 seconds".
You also need to set Browser Cache Expiration in Cloudflare to Respect Existing Headers. By doing this Cloudflare will not add its own max-age header.

For the users who are using WP Super Cache plugin, it sets default expire time is 3 seconds only. You need to check that from browser console. If it is you don't need to edit .htaccess like above. But you can always edit to fine tune Browser Cache Expiration. W3 Total Cache plugin users can set Browser Cache Expiration from settings.
You can check if HTML Edge Cache is working or not using browser's developer tools (Ctrl+Shift+I).
When user is logged in you can see the wp-cache-busted: true header.

When you browse in private (incognito) mode, you will see cf-cache-status: hit

My site is already boosted with Cloudflare workers let me know how it is working on your site.