NTC Online/Web Recharge is easy solution for recharging all NT service from a single recharge card. You can recharge or pay any NT service from a place just by using a NT Recharge Card. It can be used to recharge your friend's sim card who is far just staying at your home.
What can be recharged using NTC Online/Web Recharge?
GMS Prepaid
GSM Postpaid
CDMA Prepaid
CDMA Postpaid
Landline
SIP
ADSL Unlimited
ADSL Volume Based
WiMax
How to use NT Web/Online recharge?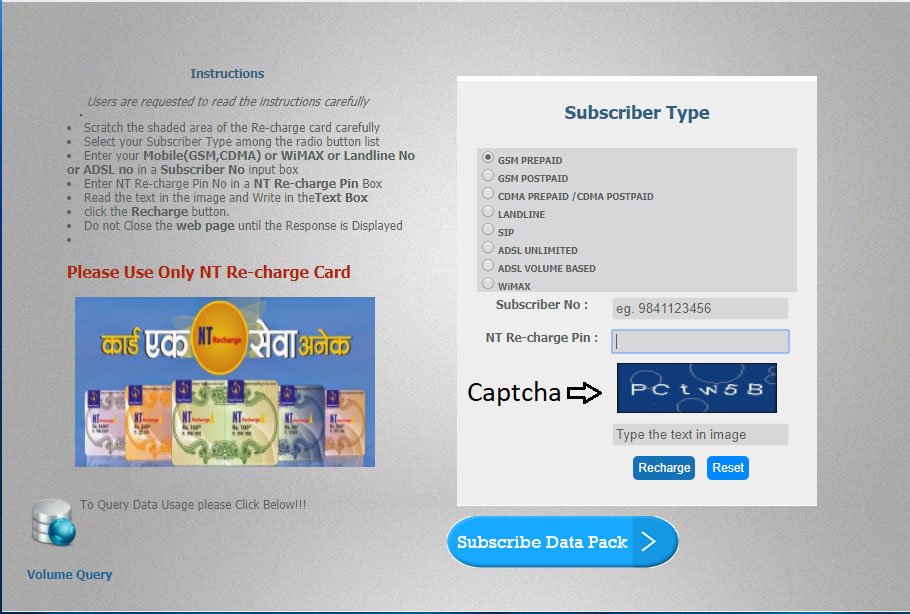 Go to NT Web Recharge, you can see recharge form in right side. Select the subscriber type. Subscriber type is NT Service which you want to recharge. Now enter the subscriber number. Subscriber no. may be mobile no. or WiMax no. or ADSL no. or Landline no. After that scratch your recharge card and enter the recharge card pin. Enter the captcha provided in the captcha box and click on Recharge button, given no. will be recharged.